Winter weather risk premium fades but price volatility remains
@Jamie Banks
PPA (Power Purchase Agreements) Manager 
We have continued to see tight margins with renewable output low on wind and high demand over the last couple of weeks.
However, in recent trading sessions the winter risk premiums we have seen have been heavily sold on the back of the current weather pattern.
If you look at the European weather models it appears that the current pattern only hits northern European countries with the bulk of continental European countries expected to have mild or very mild conditions.
The question now, is after considerable price gains and volatility over recent months, are we settling into a period of price consolidation or will market drift lower on lack of short term demand?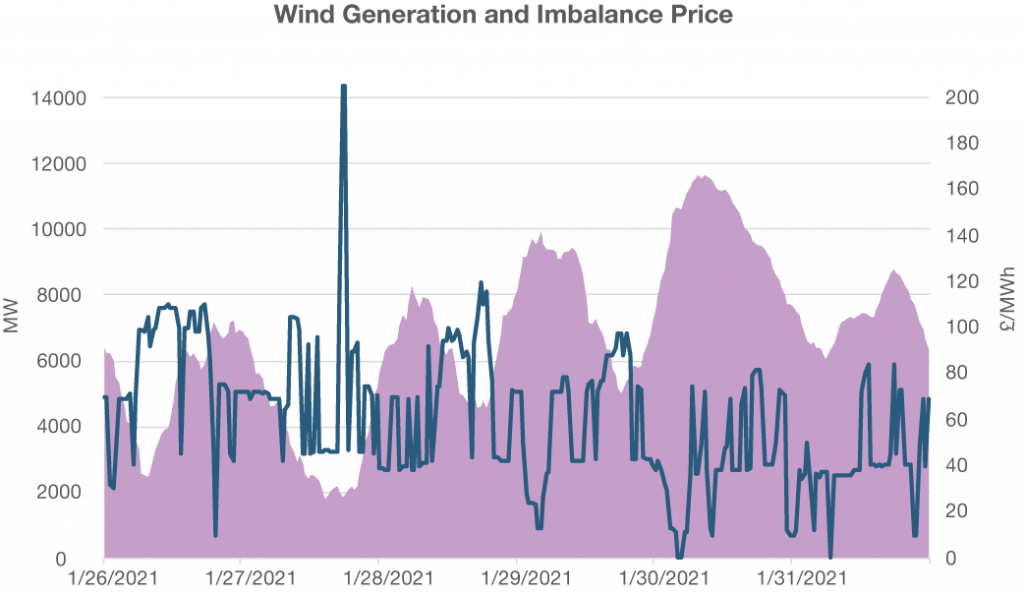 Timing and Fixing of PPAs (Power Purchase Agreements) as Important as Ever
It has been a great start to the year for our renewable generator clients who have taken the opportunity to fix into this market strength.
But timing has really been key as the market has been swinging 5%+ up and down daily which is a big number on a 12-month PPA fix.
In the medium term we see strength in broader commodity markets and potential inflationary risks continuing to support markets. Oil, carbon and coal are all relatively strong.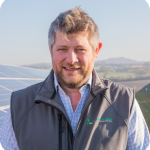 Charlie Ward
Head of Renewables at New Stream
Opportunities for Forward NBP Gas Hedges for AD Green Gas Generators
Tom Rees, Analyst at New Stream
Gas markets were pressured on the open this Monday but there have been some great selling and fixing opportunities that we have been flagging over the last month or so.
Many have taken advantage of those trading recommendations which are looking pretty good right now. 
---

UK Energy System Data
2020 becomes Britain's greenest year for electricity with average carbon intensity reaching a record low. This was driven by significant periods of coal-free generation and record highs of wind generation.
The UK January lockdown saw a reduction in demand by about 5%, however this was significantly smaller than we saw over spring and summer of 2020.
In The first two weeks of January, we saw some system notices from National Grid ESO requesting more power be made available to restore reserves. The low wind levels were restored later into the month with the help of Storm Christoph which nearly exceeded the highs of Decembers wind generation.
On the 27th of Jan, National Grid ESO went live with BM stacking alongside Dynamic Containment. This additional flexibility and revenue stacking will increase the efficiency of battery assets delivering the service.
DC still remains in soft launch with the full delivery of the service expected later in 2021, with "wave two" expected to begin in early April.
---
Carbon EUA Pricing –
EUAs Return to All-Time Highs
EU carbon prices moved strongly higher on Tuesday 2nd Feb. The benchmark contract up 6.5% higher on the day.

There was good volume traded above €35.

Possible price consolidation before a move higher.

Should be supportive for UK power and PPAs.

New Stream continue to view limited downside risk in the short term with dip buying evident on price pullbacks.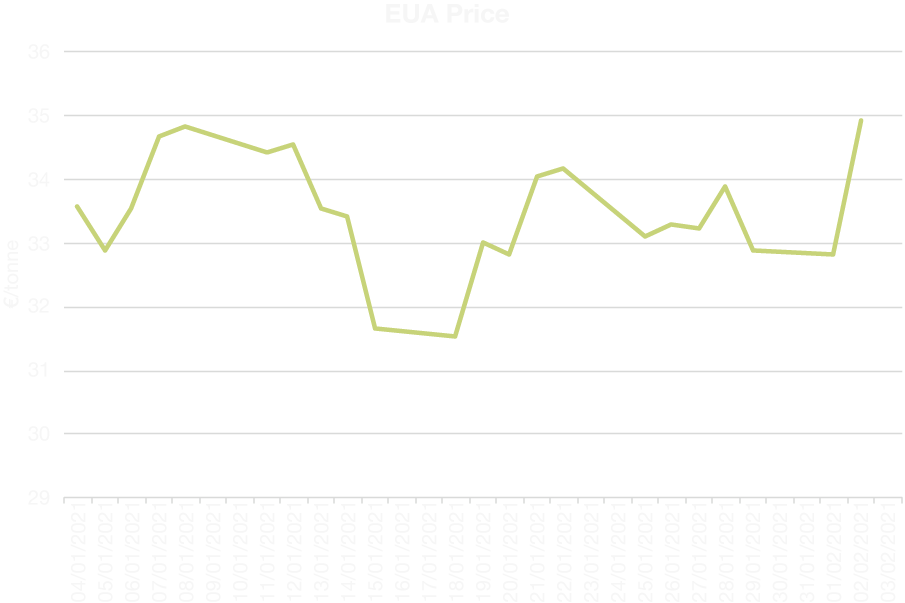 \
---
PPA
(Power Purchase Agreements) 

View

 
Some question marks about market direction.
Weather forecasts and market sentiment are key in the short term.
The market will find some support across the forward markets if positive vaccine news continues and broader commodity and equity markets remain strong.
Wind speeds

Broader commodity markets

French nuclear generation 

NBP Gas and LNG pricing

Demand forecasts

Market priced risk
premium for winter

New Stream Summary PPA Recommendation :
New Stream are flagging market strength to both renewable power generators and green gas exporters as a fixing opportunity.
New Stream are monitoring the market closely, running our analysis and making recommendations to clients.
As always every client has slightly different requirements so we work with them on a bespoke basis to find the best
PPA solution.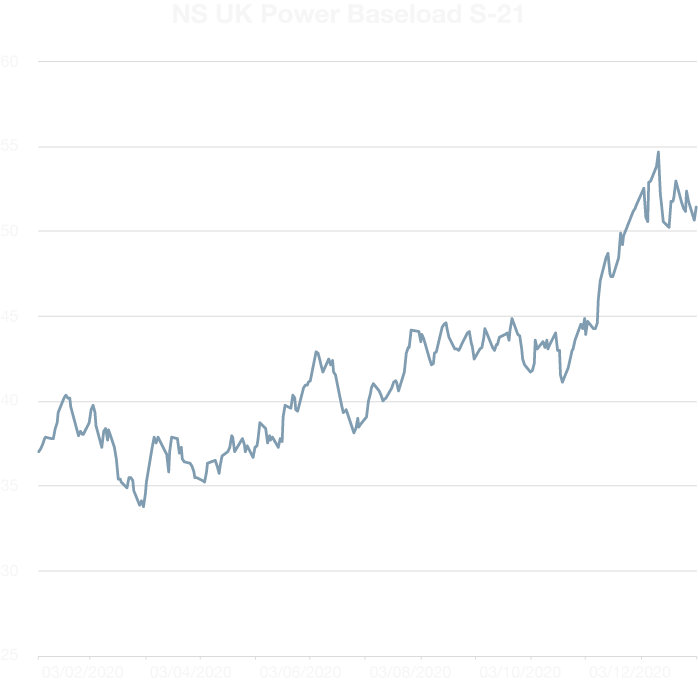 ---
ROCs
CP19 Forecast Roc recycle has fallen to £1.86/ROC, with over supply a real concern in the market. Total ROC value will be in the region of £51.90
CP20 ROC recycle value forecast to be £7/ROC with a total value of £57.05
REGO
Over-supply of both green and deep green certificates continuing to depress the market. For compliance period 20/21, demand destruction has pushed values to near term lows.
Some optimism over future values due to uncertainty over GO flows from Europe post Brexit 
Green Gas Certificates
Spot market trading in the region of £5.75-6 for Crop and £7.50-£8 for waste certificates.
Carbon capture crop certs are continuing to attract a strong premium from European buyers. 
---

In Other News :
Hinkley Point Nuclear Plant Delayed with Higher Costs
EDF said its nuclear plant project will be delayed at least six months and cost about £500 million more than previously planned because of the coronavirus pandemic.
The project completion cost  at Hinkley Point C is now estimated at £23 billion.
The first reactor will begin producing power by the end of  2026 at the earliest.
UK Energy Markets :
PPA and Green Gas Update
Centrica seeks to store hydrogen under North Sea
Centrica is considering converting its Rough natural gas storage site off the coast of Yorkshire to store hydrogen.
The Rough storage facility was closed in 2017 after technical issues but Centrica is looking at re-purposing it for hydrogen.
Rough had a storage capacity of 3.31 billion cubic metres which was approximately 70% of the UK's gas storage capacity (approximately nine days' supply). Rough could supply 10% of the UK's peak gas demand and thus was an important part of the UK's gas infrastructure.
Europe's Largest Solar Plant Planned for Western Spain
Spain's largest utility Iberdrola and the French food giant Danone SA announced plans to build a near 600 MW PV plant which would be the largest in Europe.