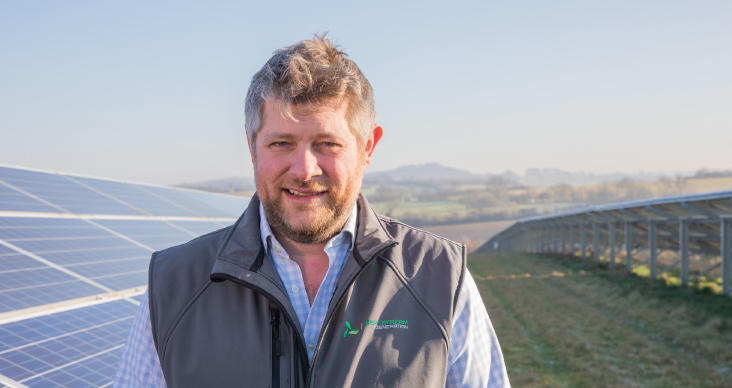 Commentary Charlie Ward, Head of Renewables at New Stream
We have seen the winter price risk premium sold off over the last few weeks. Although there is some colder weather forecast into the end of week, the back end of the month looks around seasonal normal again. UK power and gas prices have been consolidating with some dip buying evident. 
In the short term it will be important to monitor the macro environment both in terms of equities and the broader commodity complex. Obviously, inflation has been a well-documented concern, and this is also supportive of UK energy prices.
Carbon continues to be a key driver with EUA contracts seeming to be well bid in the €36-38.00 range. Whilst on the LNG front, we see global prices close to NBP and TTF levels that suggests we should be attracting a number of cargoes into Europe.

The T-1 Capacity Auction Cleared at £45/kW
On Tuesday 2nd March the T-1 Capacity Auction cleared at £45/kW.
This is the highest ever clearing price and a huge increase from the £1/kW last year.

 

At the time of prequalification capacity required was only 400MW but this increased to 2.4GW.
It looks like one of the remaining coal plants exited.

---
Watching Brief for AD Green Gas Generators as NBP Gas Price Consolidates
We continue to focus on target prices for NBP gas hedges and selling opportunities on market strength. Market timing is going to be key again as volatility prevails. Even though the winter risk premium on the front month contracts has been sold off, we have still seen big day on day price swings.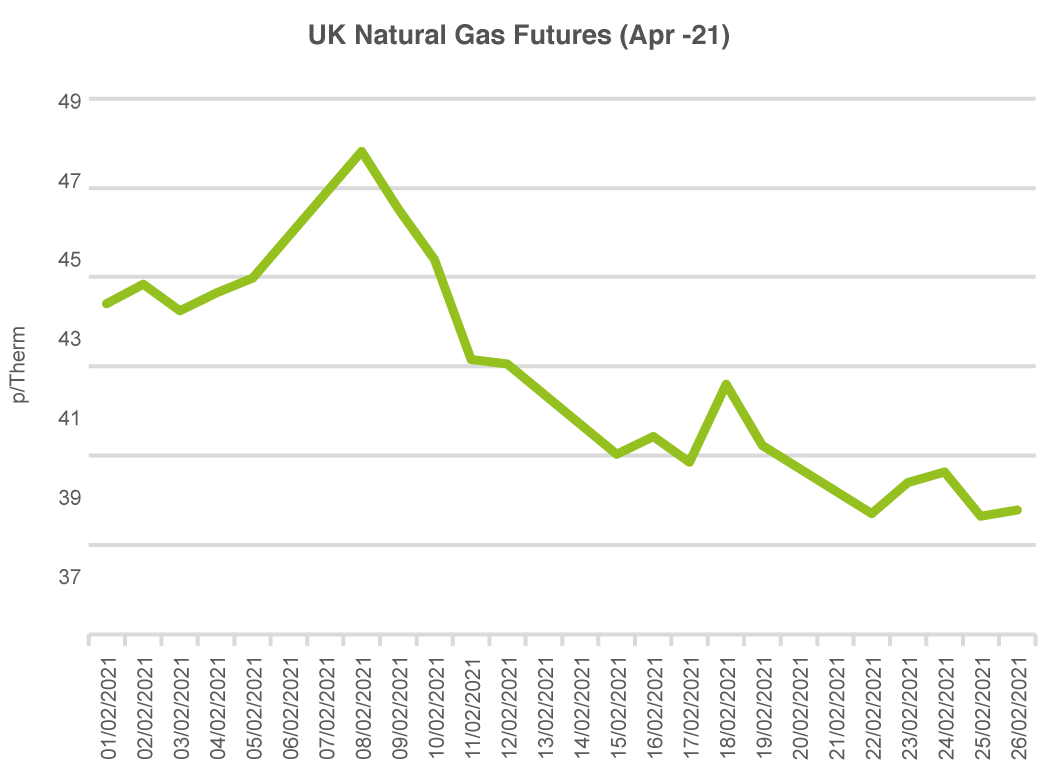 UK Energy System Data and Spot Market Volatility
On Tuesday the imbalance price reached £620.30 £/MWh. We also witnessed a BM offer accepted of £616.16 £/MWh from Keadby 1, CCGT from SSE.
With temperatures expected to remain around average until at least Thursday and windspeeds to remain low, we expect to see similar pricing over the coming days.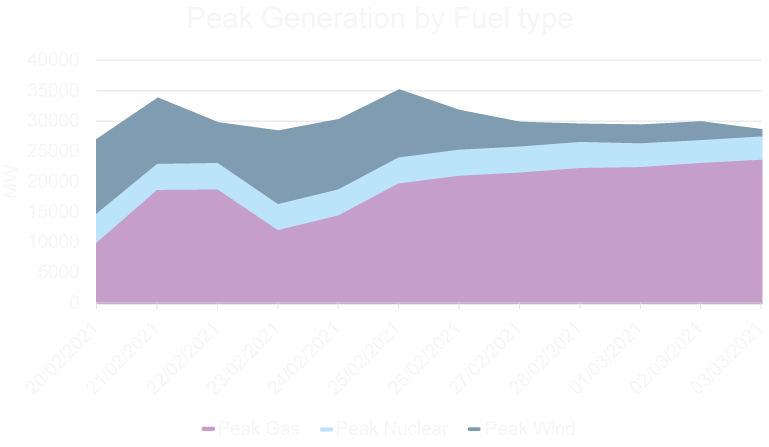 Carbon EUA Pricing

Carbon EUA prices appear to be in a period of consolidation after recent moves higher.
After the big move up in price since the start of the year

 

we have seen some investor profit taking.
Pricing is currently holding above the technical support levels.
In the short-term downside looks limited as dip buying remains evident on price pull-back

s.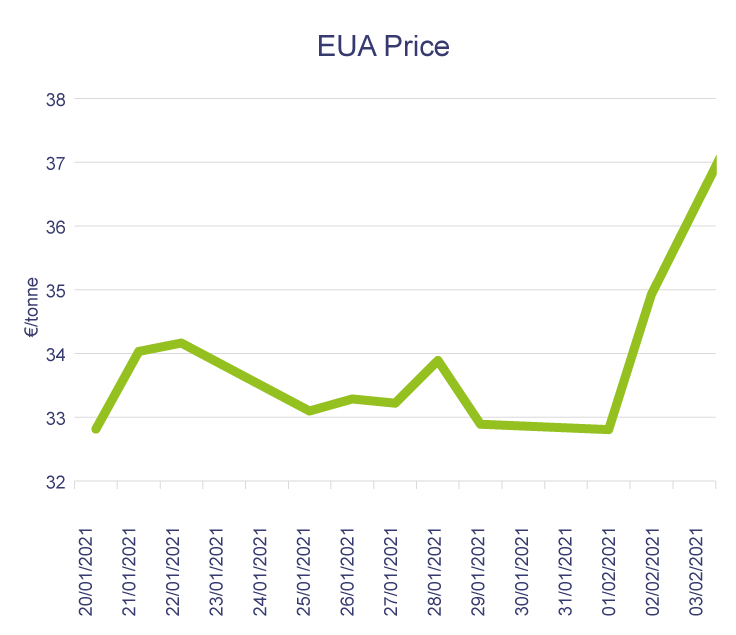 PPA | Power Purchase Agreement View and Strategy Recommendation
Some question marks about market direction.

Carbon markets and broader commodity complex are the key drivers in the short term.

New Stream see a period of price consolidation with possible gains for forward contracts.
We are keeping our PPA | Power Purchase Agreement and GPA | Gas Purchase Agreement clients who have upcoming renewals updated in order to try and time best fixing.
Market direction is perhaps not as clear now as it was at the back end of last year so if market fundamentals change, we would be moving quickly to lock in PPA contracts on a forward basis to give downside price protection.
But for now the carbon price and macro picture continue to provide support.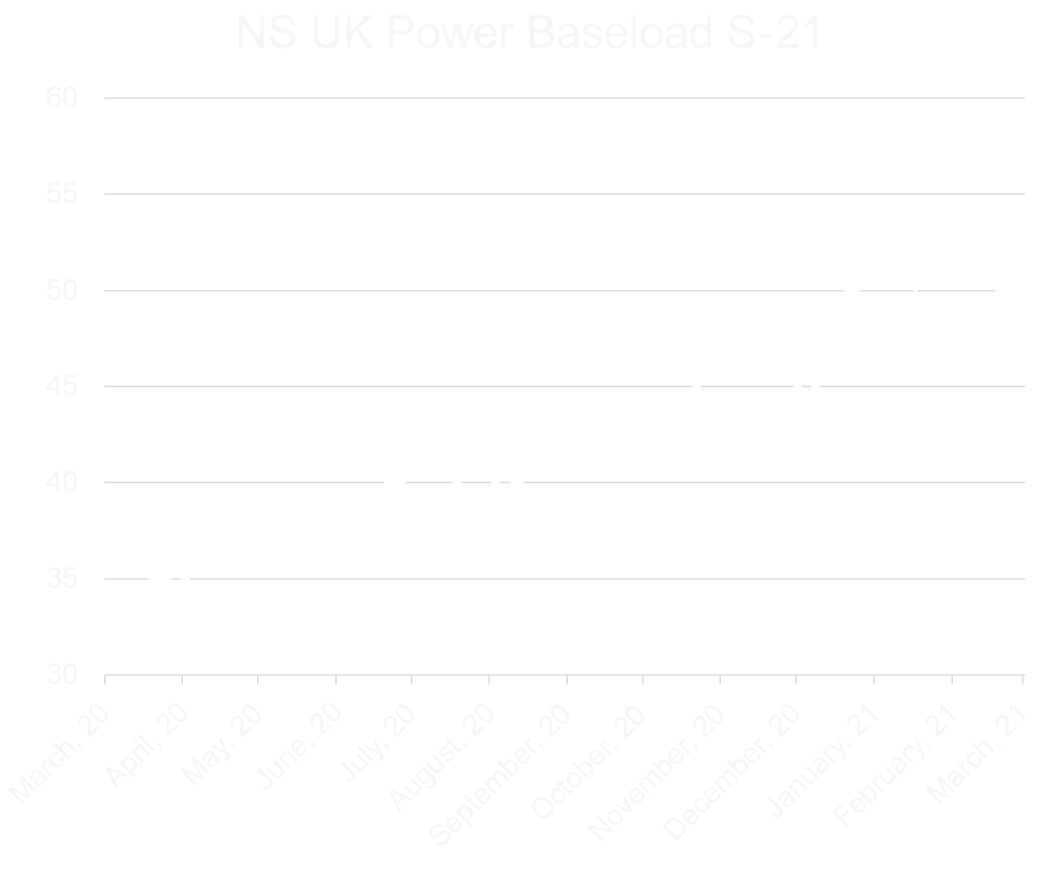 Key Market Drivers:
Carbon price
Macro story
Inflation concerns
NBP Gas and LNG pricing

Broader commodity markets
ROC Market Forecast Values
CP18 (2019-20) – Values at £54.72/ROC (£48.78/ROC buy-out price and total recycle value at £5.94/ROC).
CP19 (2020-21) – Values at £52.43/ROC, (£50.05/ROC buy-out price and total recycle value at £2.38/ROC).

CP20 (2021-22) – Values at £57.89/ROC (£50.80/ROC buy-out price and total recycle value at £7.09/ROC).

CP21-25 – Values at £55.83/ROC (£50.80/ROC buy-out price and total recycle value at £5.02/ROC).
REGOs
Shoots of recovery beginning to show in the REGO market with increased interest for both 20/21 and 21/22 compliance periods.
Increasing relative differential between biomass and deep green certificates.
RGGO (Gas)
NW European and Scandinavian buyers continue to dominate the food waste market with premium pricing being shown. We are still not back at the 19/20 levels however forward pricing is strong.
Crop derived certificates are attracting interest from both UK and European buyers and with

 

those certificates attached to plants with carbon capture attracting most interest.
Agricultural waste certificate values are dependent on the underlying feedstocks and buyers are increasingly selective as to who they contract with.
---
In other news :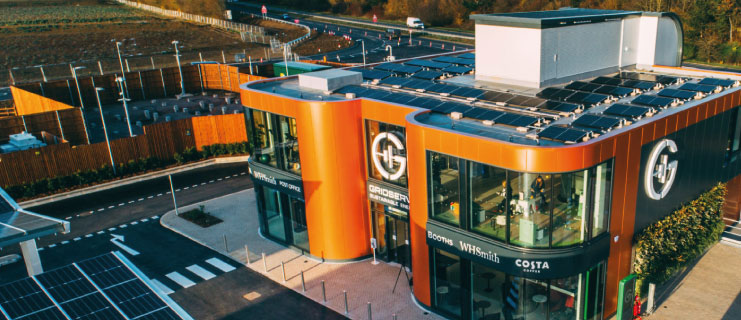 First Electric Only Car-Charging Station Opens in the U.K.
The station in Essex is the first of 100 electric facilities that Gridserve and Hitachi Capital U.K. Plc will be building out.
To see the facilities, Click Here
Energy and transport industries are gearing up to deal with as many as 30 million electric vehicles on the road by 2040.
The UK plans to phase out traditional engines in cars from 2030.
This is currently the most aggressive target in the Group of 20 Nations.
Texas electricity provider files Chapter 11 bankruptcy after devastating winter storm and power blackout.
Brazos Electric Power Cooperative filed its bankruptcy petition after racking up bills owed to the state's grid operator ERCOT in connection with the outages.
Power companies that went down during the storm from February 13th to 19th were required to pay for replacement power.